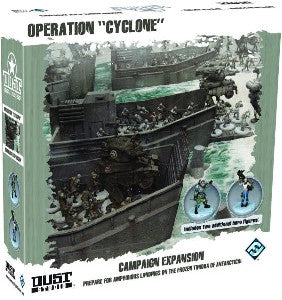 A rich mine of VK has been discovered in the subzero wastes of Antarctica, and its direct access to the sea makes it a dangerous new focal point of the war. As the Axis forces fortify their defenses on the icy shores, the Allies plan a swift and daring amphibious assault in the hopes of claiming the enemy position...

Operation Cyclone is an exciting new campaign expansion for Dust Tactics, the tactical miniatures board game of explosive battlefield combat! Operation Cyclone brings the fight from Antarctica's frozen waterways to its icy shores. With an exciting scenario guide including eight new battles, as well as the supplemental rules for artillery, amphibious assaults, and more, it includes everything you need to expand your Dust Tactics experience! Also included are six new terrain tiles, four ammo crates, four tank traps, nine terrain squares, and two amazing new heroes!
comes with Manfred, and Rosie.


Compatible with Dust 1947

Miniatures are supplied unpainted. Preparation and assembly may be required.