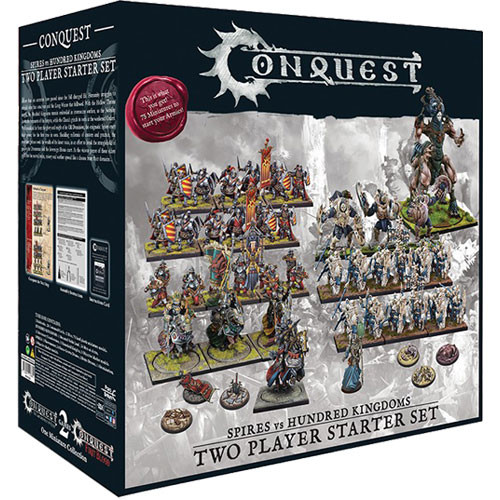 38mm Scale

Grab a friend and dive into the world of Conquest: The Last Argument of Kings with our Core Box Set! With proposed scenarios designed to ease you into the system of Conquest, the box contains three warbands and a commander unit for each faction, allowing two players to clash on the field. Whether you rally the might of the Hundred Kingdoms or command the twisted creations of the Spires, the objective is one and the same: Conquest.

Plastic components.

Contents:
29 Spires Miniatures
  ‣ 1 Pheromancer
  ‣ 3 Brute Drones
  ‣ 1 Abomination
  ‣ 24 Force-Grown Drones
40 Hundred Kingdoms Miniatures
  ‣ 1 Noble Lord
  ‣ 24 men-at-Arms
  ‣ 12 Mercenary Bowmen
  ‣ 3 Household Knights
8 Command Cards
6 Objective Markers
12 Dice
2 Softcover Rulebooks
1 "Conquest the Next Step" Guide
Assembly Instructions

Miniatures are supplied unpainted. Preparation and assembly are required.