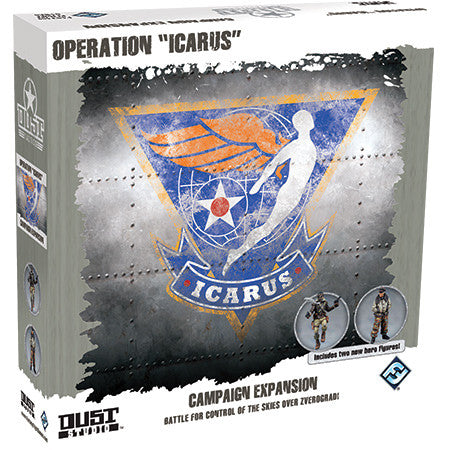 The Allies possess the largest air fleet on the planet. In the skies, their power is currently unmatched, and they know they have to maintain this supremacy in order to achieve global victory. However, in Zverograd, SSU attack helicopters harass ground troops, and new Axis jets cruise the skies. Each bloc realizes the importance of seizing the skies, so as the Allies prepare to launch a vital series of raids against Zverograd's airfield, they're bringing their best soldiers, toughest walkers, and deadliest new aircraft.

As it follows the Allies' efforts to gain a firmer foothold in the battle for Zverograd, Operation Icarus introduces new rules for minefields, the limited cover provided by the trees that line the airfield's landing strips, and the quonset huts in which the Axis forces await the Allied assault.

Both sides benefit from the leadership of new heroes. Panzerprinz is an ace Axis pilot, and Sgt. Victory stands alone among the Allied troops, accomplishing amazing feats with his superhuman speed, strength, and resilience. All these elements come together to create the dangerous new battleground that comes sharply into focus with the seven tense and ferocious scenarios of the Operation Icarus campaign.
Comes with: Panzerprinz, and Sgt. Victory.

Compatible with Dust 1947


Miniatures are supplied unpainted. Preparation and assembly may be required.