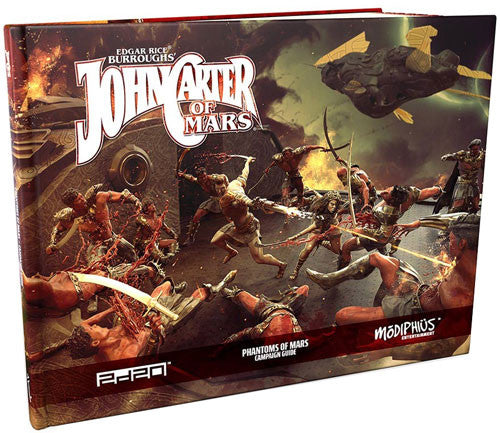 "I must admit that cold shivers played along my spine and the short hairs at the base of my head stiffened and rose up, as do those upon a hound's neck when in the night his eyes see those uncanny things which are hidden from the sight of man."

Phantoms of Mars provides you with a new, unique campaign. Play through an epic story of swordplay and conspiracy, using the 2d20 system.

• Uncover the Eidolon conspiracy using your wits, brawn, and the help of your companions.

• Adventure to familiar locales and new locations, as the campaign takes you across the dying Red Planet.

• New rules and statistics for narrator characters are included for each adventure.

• New creatures are introduced, with their new rules and statistics explained.

• Narrator advice is included on how to inset the campaign into your ongoing game, or as a separate storyline.

• Rules for miniatures combat builds on the 2d20 system conflict mechanics, for a standalone skirmish wargame experience.

A copy of Adventures on the Dying World of Barsoom Core Rulebook is necessary to use the contents of this book.