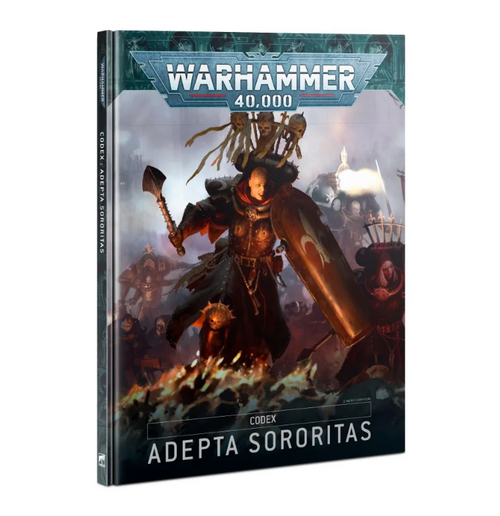 The Adepta Sororitas are the military arm of the Ecclesiarchy, taking the fight to the faithless with holy fire and fury. Inside this codex, you'll find everything you need to field the valiant Sisters of Battle, plus thrilling lore and art to inspire your own collection.

  Clad in thick suits of power armour and wielding weapons usually seen only among the Emperor's Angels of Death, the Adepta Sororitas take to the field with an unquenchable zeal. Empowered by their faith and capable of performing miraculous feats, the Battle Sisters march alongside mighty tanks and powerful mechanical warsuits to bring fire and fury to every corner of the galaxy. Along with inspirational photographs of stunningly painted models, you can delve into the background and lore of the Adepta Sororitas, and discover the rules that you need to field them in your games of Warhammer 40,000.

Inside this 128-page codex, you will find:
– The history and origins of the Adepta Sororitas, detailing how they rose from a galaxy-spanning heresy to defend the Emperor's faith
– A showcase of stunningly painted Citadel Miniatures that displays the martial liveries of their many Holy Orders
– A vast range of datasheets providing tabletop rules for 34 units from the Adepta Sororitas army
– A bounty of Stratagems, Relics, and Warlord Traits featuring updated favourites and brand new options for your army on the tabletop
– Bespoke Crusade rules that allow you to embark upon a quest to raise your Canoness to the status of Living Saint
– And more!