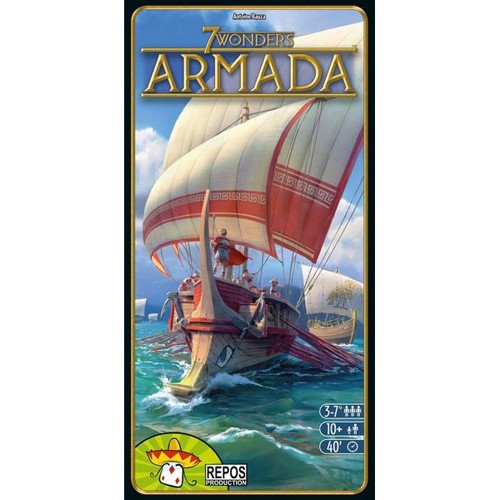 The horizon is now accessible to the civilizations of the Mediterranean basin. The house is now that of the conquest of the seas!
This expansion allows players to build and control 4 fleets of ships. Two new kinds of cards (Armada cards and island cards) enrich the game and increase the interaction between players.
This expansion is compatible with all previous expansions and requires an 8th Wonder board to pay with 8 players.
Contents:
8 Dockyard Boards
32 Ship Figures
24 Armada Cards
27 Island Cards
48 Naval Conflict Tokens
6 Ground Conflict Tokens
2 Incursion Tokens
6 Coins
4 Game Aids
1 Rulebook
1 Score Booklet

Ages: 10+
Players: 3-7
Game Length: 40 minutes
Please Note:  This is not a stand-alone game. A copy of 7 Wonders is required to play.