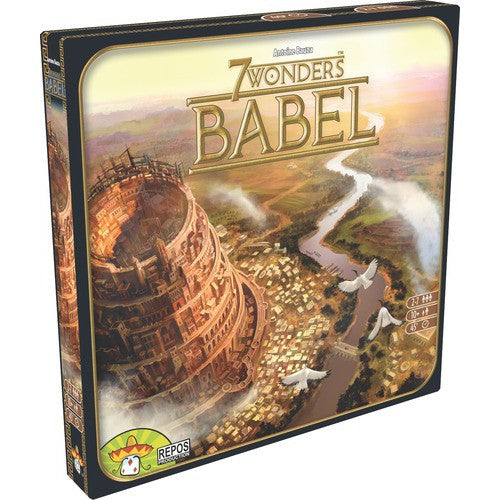 All civilizations have their eyes turned towards the horizon, where the majestic Tower of Babel is slowly being erected towards the heavens. Each player may decide to support this Wonder or not by taking part in its construction and by financing prestigious, related projects.

7 Wonders: Babel includes two modules for use with the 7 Wonders base game, and they can be used individually or together in any combination with other expansions. The first expansion, Tower of Babel, will allow you to erect the mythical tower. The second expansion, Great Project of Babel, will allow you to enhance the area around Babel.

Contents:
1 Babel Board
24 Babel Tiles
15 Great Project Cards
10 Participation Tokens
166 Tokens
1 Scorebook
1 Rulebook
1 Helpsheet

Ages: 10+
Players: 2-7
Game Length: 40 minutes
Please Note:  This is not a stand-alone game. A copy of 7 Wonders is required to play.