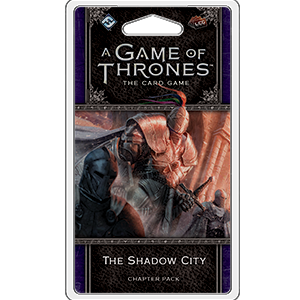 Darkness falls across the world of A Song of Ice and Fire. While Daenerys Targaryen struggles to rule Meereen, conspirators plot her downfall. Jon Snow serves the Night's Watch as their new Lord Commander, but there are dissidents hidden within his ranks. In the darkling alleys of King's Landing itself, House Lannister, House Tyrell, and the faith of the Seven clash for control of Westeros. There are shadows everywhere.
The Shadow City marks the beginning of the fifth cycle of Chapter Packs—the Dance of Shadows cycle. Here, you'll find the story advancing into the pages of A Dance with Dragons and the return of a beloved mechanic from the game's first edition: shadows. Throughout this expansion and the rest of the cycle, you'll find characters, locations, attachments, and events emblazoned with the shadow keyword. Assassins, spies, conspirators, and secrets hide in the twilight, ready to spring into view. Every faction must embrace the darkness and the path of shadows—or fade into obscurity.
Ages: 14+
Players: 2-4
Game Length: 60-120 minutes
Please Note: this is the second edition.