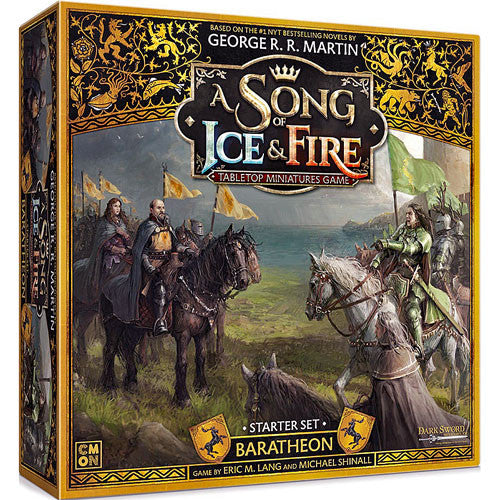 The War of the Five Kings gets personal between the Baratheon brothers, Stannis and Renly.  Both laying claim to the Iron Throne.  Standard Baratheon war doctrine calls for heavy armor, even for troops ordinarily suited to speed.  But slow moving means tough to crack, where even Baratheon skirmisher troops can hold the line against heavier counterparts.  Both Lady Shyra Errol and Ser Alester Florent remain interested parties, working for either side as the war shifts.  It's an age of bold claims and bolder action as the Baratheons march to war.

The Baratheon Starter Set has everything a player needs to start a Baratheon army. It contains two full units of Baratheon Wardens, a unit of Stag Knights, along with a unit of Baratheon Sentinels. Additionally, it has various Unit Attachments, Commanders, and NPCs to customize what players field. Also included is the game rulebook, dice, tokens, measuring sticks, terrain templates, and everything necessary to send a force to war.
Please Note:  Miniatures are supplied unpainted. Preparation and assembly may be required.