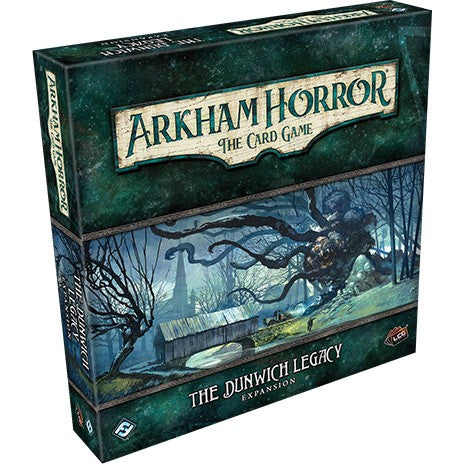 "No one, even those who have the facts concerning the recent horror, can say just what is the matter with Dunwich. . ."
- . P. Lovecraft, The Dunwich Horror

A monstrous presence once terrorized the secluded village of Dunwich. The season of horror ended only after three professors from Miskatonic University - Dr. Armitage, Dr. Morgan, and Professor Rice - ventured to Dunwich, armed with secret knowledge that enabled them to defeat the creature. Now, several months later, Dr. Armitage's colleagues have gone missing, and he fears the worst.

In The Dunwich Legacy, the investigators take ups the search for the missing professors, launching a campaign that takes them to the notorious Clover Club, Miskatonic University, and beyond. This expansion contains the first two scenarios of The Dunwich Legacy campaign as well as new investigators and player cards that increase the customization options of the game.
Contents:
5 Investigator Cards
5 Mini Cards
92 Scenario Cards
59 Player Cards
1 Campaign Guide
Ages: 14+
Players: 1-2
Game Length: 60-120 minutes
Please Note:  This is not a stand-alone game. A copy of Arkham Horror LCG: Core Set is required to play.