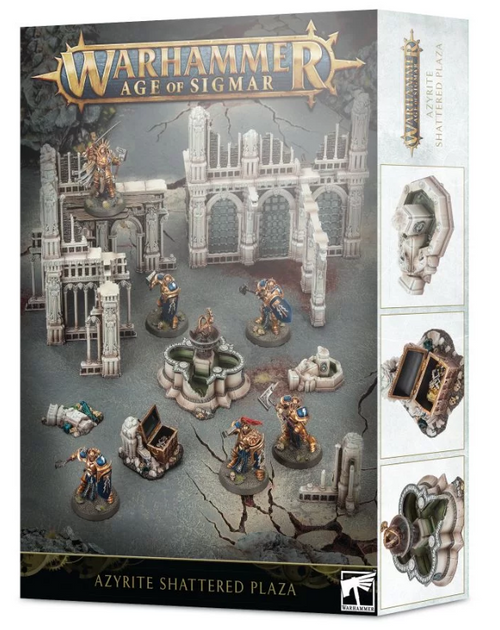 Build dark and gothic battlefields for Warhammer Age of Sigmar with the Azyrite Shattered Plaza – a set of modular terrain that makes building ruined townships simple. Whether you're recreating a run-down quarter of the Cities of Sigmar, the ruins in the Eightpoints itself or a remnant from the Age of Myth, this set is ideal, giving you seven terrain pieces that are easily added to any battlefield. Adding extra levels to battle over and cover to hide behind, they're perfect for adding tactical depth to your games. Rich, thematic detail makes these terrain pieces a pleasure to paint, build and even use as base decoration for larger models. These sets are also compatible with the Azyrite Ruins kit, giving you limitless possibilities when building your scenery.
This plastic kit builds
- 2x large walled sections, both split over two levels
- 1x broken and shattered town fountains
- 1x small ruined pillar
- 1x small, treasure chest with pillar
- 2x small fallen and broken pillars
Rules for using this terrain in your games of Warhammer Age of Sigmar can be found in the box.