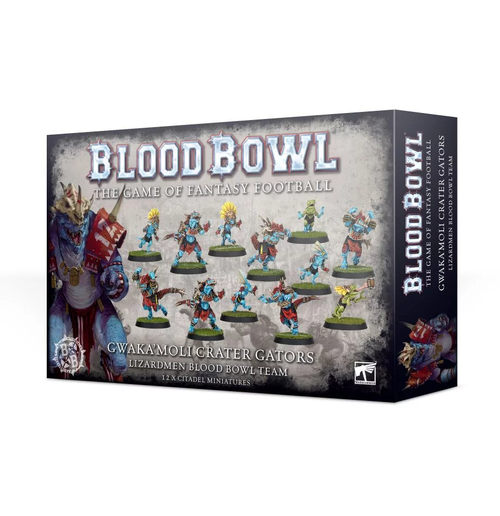 If you're looking for a funky and fresh new twist to the game, Lizardmen teams are where it's at. They have access to the best of both worlds: with players that are strong and tough, plus fast and agile ones. Once you get the hang of using your Saurus Blockers (not to mention Kroxigors if you really want to make an impact) to protect the nimble Skinks long enough to perform some slick plays, you'll find yourself scoring again and again. Add their unconventional aesthetic to the mix, and you've got a team that looks great, plays well and scores big.

This multipart plastic kit contains all the components you need to assemble the Gwaka'moli Crater Gators, a Lizardmen team for use in games of Blood Bowl, containing 6 Saurus Blockers, 4 Skink Runners, and 2 Chameleon Skinks, plus a roster sheet. Also includes a transfer sheet, 2 Slann-statue turn markers, egg-themed balls, and 12x 32mm Citadel round bases which feature holes to place the ball.

The rules to use Lizardmen teams in your games of Blood Bowl can be found in Spike! Journal 7.