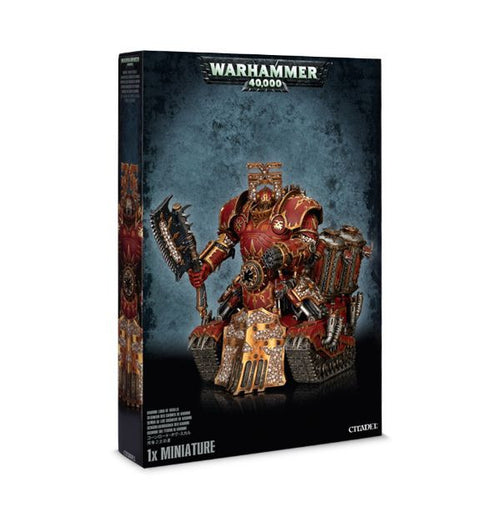 This massive Daemon Engine of Khorne is built in hell forges with the sole purpose of killing, maiming and burning its enemies until they are no more than a sticky paste under its mighty tracks.
Measuring almost 6" tall, and just over 7" in length, this huge kit comes with a number of assembly options. For starters you get to equip the right arm with a massive Great Cleaver of Khorne. Alongside this you have the choice of whether to equip the left arm with the infantry shredding Hades Gatling Gun or the aptly named Skull Hurler. You also have the option to make any of the three belly guns, as detailed in the Apocalypse rulebook, choosing either the Gorestorm Cannon, Daemongore Cannon,or the Ichor Cannon. Also included are two heads, so you can decide whether you want a fully enclosed helm, or whether you'd rather stare into the cold, dead eyes of the Daemon Engine itself.
This plastic kit contains 99 components and 2 Transfer Sheets with which to make a Khorne Lord of Skulls.
This kit comes supplied unpainted and requires assembly