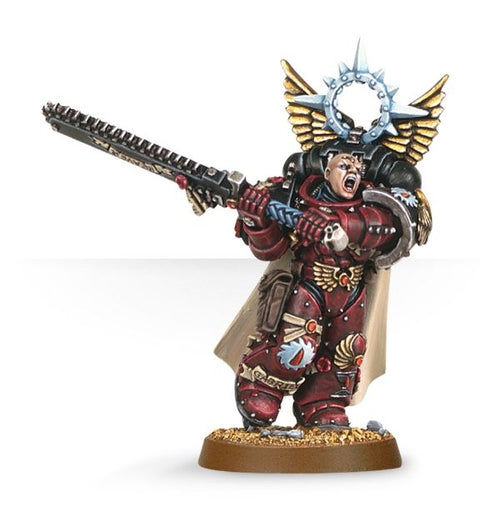 Gabriel Seth is the Chapter Master of the Flesh Tearers. Fully aware that he cannot curtail the bloodlust that runs through the veins of his Battle-Brothers, Seth has resolved to lead his Chapter in an unrelenting campaign against the Emperor's enemies, in the hope that the Flesh Tearers will one day regain their place among the Imperium's pantheon of honoured defenders.

Posed as if charging, this miniature is full of exquisite details. From the tear-shaped drop of blood set within a circular saw blade representing the Flesh Tearers Chapter symbol on his knee, the wing and grail iconography, all the way through to his iron halo and the immense wings atop his back pack, Gabriel Seth comes adorned with numerous unique elements. He wears studded armour, a long cloak and his shaven head displays a face of rage as he wields a massive double handed chainsword.

This pack contains Chapter Master Gabriel Seth - a finely detailed resin cast kit that comes in four components, and is supplied with a 25mm round base. This miniature is supplied unpainted and requires assembly - we recommend using Citadel Super Glue and Citadel Paints.