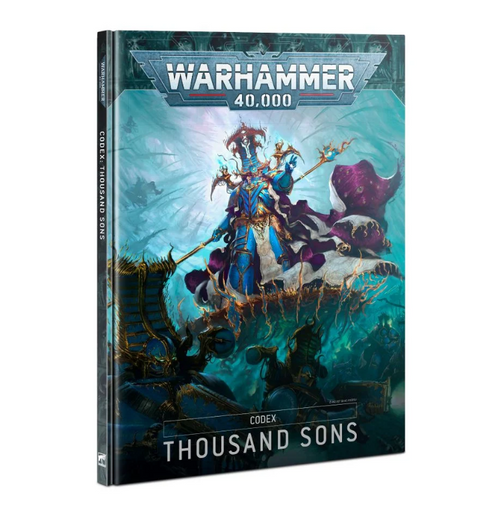 This 96-page book will give you everything you need to launch a crusade of eldritch terror across the galaxy, and make the most of the myriad units available to you. In addition to the rules, you'll find loads of deep lore, stunning art, and expertly painted models to inspire you.

Inside this book, you'll find:

- The history of the Thousand Sons, including their role in the Horus Heresy, their current strength in Warhammer 40,000, and sanity-shattering background on their master, Tzeentch
- A detailed description of the organisation and iconography of the Thousand Sons and the various Cults in their ranks
- A Thousand Sons bestiary with background details for every unit and Character featured
- A showcase of stunningly painted Citadel miniatures
- Rules for units that are available to the armies of the Thousand Sons – including 25 datasheets
- Stratagems, Relics, and optional secondary objectives that define the unusual tactics of the Thousand Sons
- A Crusade section providing Agendas, Chaos Boons, Psychic Fortitudes, Requisitions, Battle Traits, unique Discover the Arcane rules, and Crusade Relics for your Thousand Sons to collect
- Loads more

You will need a copy of the Warhammer 40,000 rulebook to use the rules included in this codex.