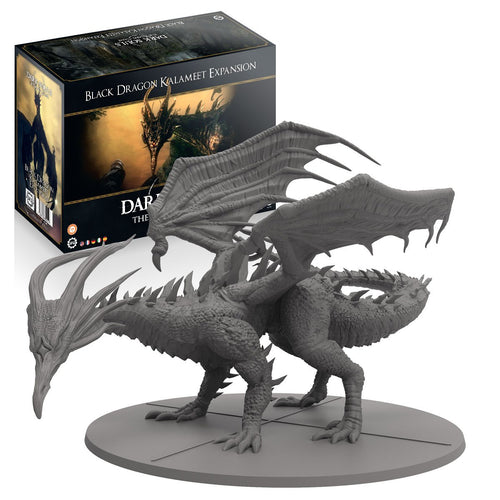 Coming in September 2018:
As you adventure through the Royal Wood do not allow the scenery to distract you, for in the world of Dark Souls™ death always awaits. Black Dragon Kalameet is a fierce embodiment of that fate, as dark in colour and nature as its name suggests, with the chaos gem glowing balefully between its eyes. Do you have the courage and skill to overcome the black dragon and its malevolent Mark of Calamity?
The Black Dragon Kalameet Expansion is intended for use with Dark Souls™: The Board Game.
This Dark Souls™: The Board Game expansion features a terrifying new mega boss in the form of Black Dragon Kalameet. Included are a new gigantic mega boss tile, deadly new boss behaviours, cards for the brand-new Strafe attacks, tokens for the new Calamity condition, and unique new boss treasures.
The Black Dragon Kalameet Expansion also adds new encounter cards which provide larger battles than ever before in Dark Souls™: The Board Game. The tremendous scale of these encounters creates a whole new level of peril for you and your party. Are you up to the challenge?
Contents:
Black Dragon Kalameet

Mega Boss Game Board

4x Level 4 Encounter Cards

22x Boss Behaviour and Data Cards

2x Boss Treasure Cards

Black Dragon Kalameet Boss Dial

4x Calamity Tokens

Rules Leaflet
This expansion includes components in English, French, German, Italian, and Spanish.
Requires a copy of Dark Souls the board game to play.
Ages: 14+
Players: 1-4
Game Length: 90-120 minutes