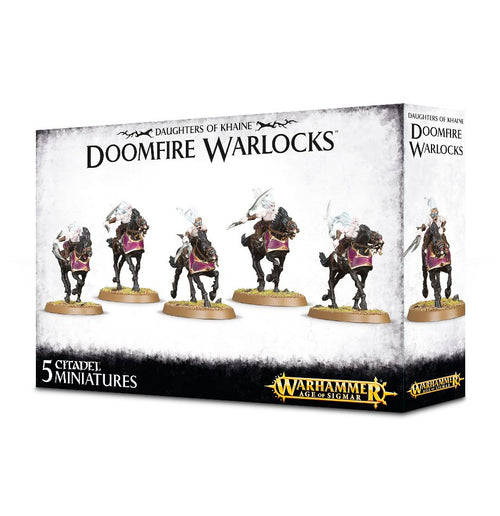 This multi-part plastic kit contains the components necessary to assemble 5 Doomfire Warlocks. Withered and gaunt – almost to the point to desiccation – they immediately strike the observer as pained and tortured beings, their faces twisted into sneering expressions of hate. They can be armed with cursed scimitars or doomfire crossbows, and are equally expert at using both while atop their dark steeds. These are large, armoured war horses, with evil-looking spurs on each leg, enormous, vicious teeth and runes emblazoned upon their flanks. The unit leader, a Master of Warlocks, can be identified by his twin-bladed scimitar and unique masked face.
 
OR

The Dark Riders are mounted on 5 Dark Steeds and are distinguished by the 5 cloaked torsos. There are a variety of options to add to the miniatures including 5 stowed repeater crossbows; 4 spears; 5 unique embossed shields; 5 sheathed swords; and a choice of 14 heads (6 helmeted, 5 masked, 2 with scarves over their mouths, and 1 with twin hair braids that can be used as the Herald). There are also additional parts to make a standard bearer and hornblower.

The Doomfire Warlocks come as 98 components, and are supplied with 5 60mm Oval bases. The kit can optionally be used to assemble 5 Dark Riders.