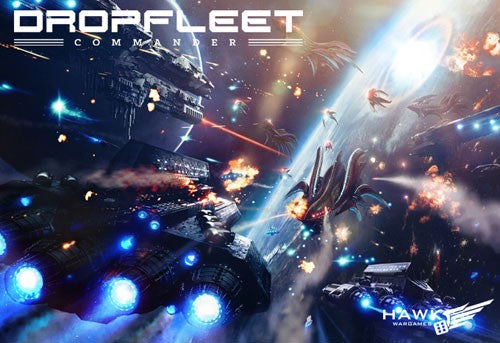 It is the year 2673, a time of war on a galactic scale. The mighty battlefleets of the United Colonies of Mankind are ranged against those of the alien Scourge, vile overlords of humanity's once great homelands - the seven Cradle Worlds and Earth itself. The Colonies are on the offensive, the will of an entire species bent on vengeance. This grand endeavor is known as the Reconquest; the greatest military enterprise in the history of mankind. Thousands of ships and millions of soldiers battle for victory in the void and on land.
You can now play your part in these war-torn times. Fight for noble humanity or the dreaded Scourge in orbital battles for supremacy, played with finely detailed miniatures. You will command fleets of colossal warships, unleash strike craft and deploy your ground forces in strategic naval battles above a wartorn planet. Prepare your vessels; the battle for mankind's future has begun!

Plastic components.

Contents:
1 UCM Starter Fleet
- 3 UCM Cruisers
- 4 UCM Frigates
1 Scourge Starter Fleet
- 3 Scourge Cruisers
- 4 Scourge Frigates
102 Tokens
10 Six-sided Dice
Tape Measure
Reference Sheets
Rulebook
Starter Orbital Battlefield

Miniatures are supplied unpainted. Preparation and assembly may be required.