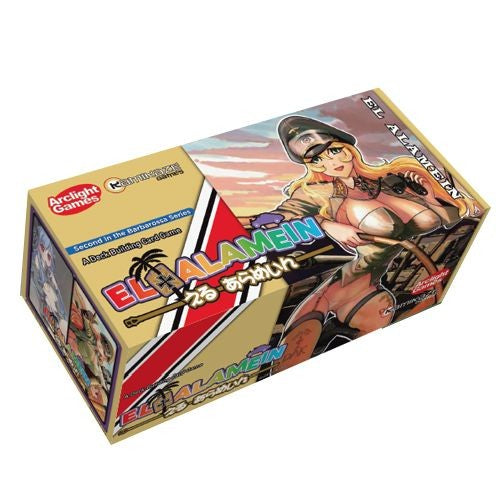 Enter the blazing desert with your squads of sexy soldiers! Aim for Tobruk, then on to the Suez! Fend off the British Army's counterattacks and join with the puny Italian Army to take Egypt!

It is early February in 1941. By the orders of the Fuhrer, you have followed the lovely General Rommel to the Tripoli airfield in blazing desert to come to the aid of fleeing Italian forces.

Before your eyes the British troops crushed the Italians and are closing in on their main base here. If you don't do something, northern Africa will become a backdoor into Germany for the Allies.The only problem? Your subordinates in the Afrika Korps haven't even arrived yet.

Can you carry out your mission in this terrible situation? If you have what it takes, you and Rommel might just be able to turn the tide of the African campaign and make your way to the Suez.

Contents:
40 Supply Cards
150 Army Cards
24 Strategy Cards
17 Support Cards
21 Site Cards
60 Event Cards
50 Victory Cards
1 Rulebook

Ages: 18+
Players: 2-5
Game Length: 60 minutes
Please Note:  This game can be played on its own or combined with Barbarossa: The Deck Building Game for enhanced play.