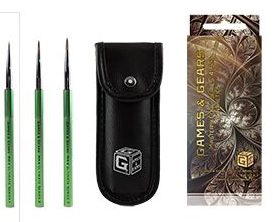 The latest generation of brushes from Games and Gears for your miniature hobby.
Three premium quality synthetic brushes: sizes 1, 2 & 3. Comes in a Games and Gears custom leather brush case for easy storage and portability.

Our dedication to quality and excellence bring you the new and improved 4th generation of our world famous Games and Gears brushes, master crafted for your painting pleasure.
What's changed?
Longer brush points – Allows you to load more paint on to the brush and giving you more control over your painting.

Stronger synthetic fibre – These stronger fibres are more resistant to abrasive metallic paints and inks, which can ruin kolinsky hairs.
Take your painting to the next level with this core synthetic brush set!