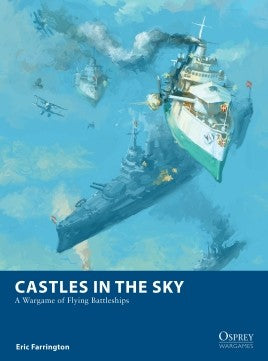 A wargaming ruleset for epic pre-WW1 battles in the sky.
It's the dawn of the 20th Century and the Great Powers turn to war. Since the development of the air screw, leading to the creation of flying warships, the navies of the world have comprised an ever-growing number of these aerial ironclads. So fire up the turbines, ready the aether drives, and take to the air in 
Castles in the Sky: A Wargame of Flying Battleships.
Featuring all the rules required to fight battles with fleets of flying behemoths. Assemble your fleet from 8 nationalities and fight through a variety of scenarios. With a full campaign system, 
Castles in the Sky
 contains everything
adventurous aeronautical admirals need to find victory in the skies.