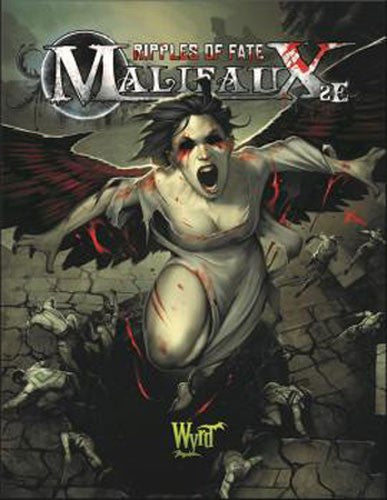 Chaos Has Engulfed Malifaux

The Governor-General is gone, undone by his attempts to become a Tyrant, and the Guild is reeling from the blow. As it struggles to keep the opportunistic Arcanists and dreaded Resurrectionists at bay, an ancient power reawakens deep within the Badlands, gathering the scattered Neverborn to her side in preparation for the coming war with the Tyrants ... and then, the scouring of all human life from Malifaux.

Amidst the chaos, daring bandits take advantage of the Guild's distraction to line their own pockets with Soulstones, Gremlins soar through the sky in a stolen airship and the Ten Thunders turn to a power they can neither understand nor control in order to expand their holdings.

And through it all, a shrouded woman rides slowly through the streets clogged with bodies, taking measure of the dead and recruiting the strongest as soldiers for the coming war...

Ripples of Fate expands the world of Malifaux, bringing seven new Masters into the ballet between fate and mortal willpower. New models, new stories, and new scenarios provide a glimpse of how each Faction intends to capitalize upon the vacuum of power left behind in the wake of the Governor's death.

The battle for control of Malifaux has begun.