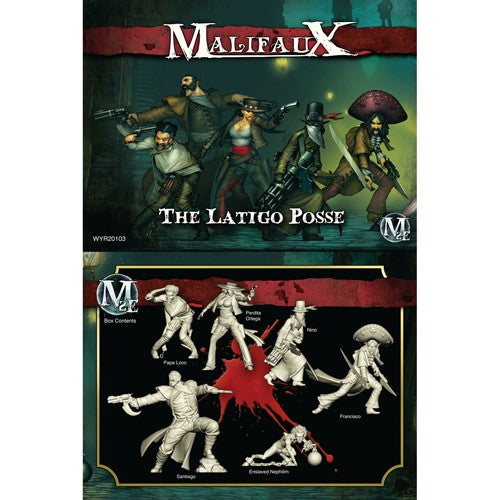 Make no mistake, the Guild exists for one reason and one reason only. There is talk of justice and peace, but these are secondary concerns, byproducts of their primary interest. The Guild exists to maintain the production of Malifaux Soulstone above all other things. The citizens abide by Guild law because it offers some amount of protection, but no one is confused about the way this force exerts its hold over the City and its resources.

Figures in this box set are 32mm 'heroic' scale miniatures made of high quality plastic.

Contents:
6 Figures (Plastic)
- 1 Perdita Ortega
- 1 Enslaved Nephilim
- 1 Santiago
- 1 Nino
- 1 Francisco
- 1 Papa Loco
Stat Cards
8 Upgrade Cards
- Os Veo
- Trick Shooting
- Tormenta De Plomo
- Diestro
- Aura Ancestral
- Wade In
- Hermanos De Armas
- Hair Trigger

Miniatures are supplied unpainted. Preparation and assembly may be required.