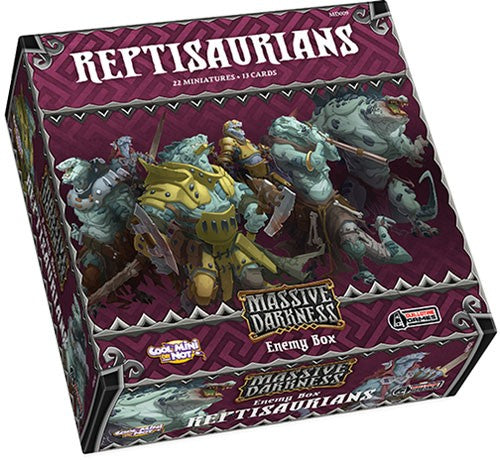 Savage lizardfold from the coastal swamps, the Reptisaurians are new to the forces of Darkness but are still fiercely loyal. While they usually keep to themselves, the call of the Darkness was too tempting for these cold-blooded killers, Their spiritual leaders became agents of Darkness, but the mighty Reptisaurus Rex still reign as undisputed "kings." Armed with poisonous blowguns and swords, they have crawled out of their swamp to bring terror to the land.
This Enemy Box contains two additional Mobs (Boss and Minions), an Agent, and a Roaming Monster, along with their game cards. Reptisaurians are ruthless predators; they used poisoned darts and vicious blades to make sure their prey can't oppose their physical might.

Contents:
6 Reptisaurian Warrior Miniions
1 Reptisaurian Boss
12 Reptisaurian Blowgunner Minions
1 Reptisaurian Blowgunner Boss
1 Reptisaurian Agent
1 Reptisaurian Rex Roaming Monsters
13 Cards
Ages:
14+
Players: 1-6
Game Length: 90 minutes

This is not a stand-alone game. A copy of Massive Darkness is required to play.