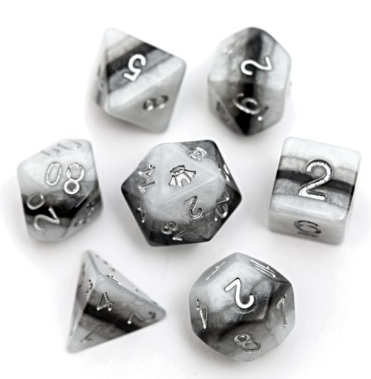 Each die has the high and low numbers centered on the outer primary color for high-speed number recognition, while Reality Shards are our only dice line to proudly bear our Tiny Tower logo in the featured 20-spot of the d20 (only).
Made of high-impact resin, with the same original layering process we invented for Halfsies Dice in 2013 that prevents air-bubbles from forming inside, Gate Keeper Games dice bear the honor of being the heaviest, densest, and most well-balanced resin dice on the planet!
DICE SET:
7-Die Sets

 

–

 

Contains a d4, d6, d8, d10, d% (00), d12 and a d20.
 These dice come set-packed in a Dice Keep.
BUY WITH CONFIDENCE: Gate Keeper Games offers free replacement parts with verified purchase and a Happiness Guaranteed Refund Policy on appearance, wear, and balance for up to 3 years.  Have an issue? Contact Game Keeper Games directly and you will get taken care of.  No worries.
Happy Gaming!