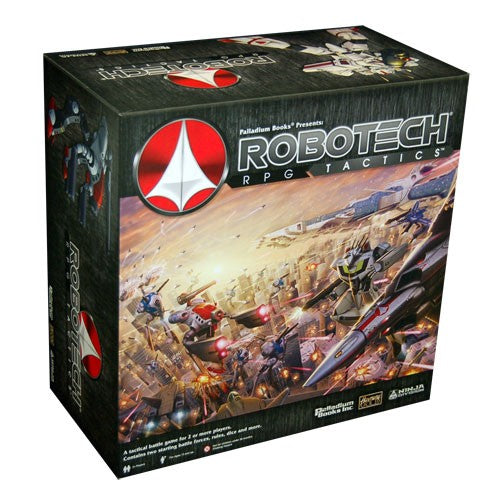 Prepare for invasion with
Robotech RPG Tactics
! Take command of the deadly mecha fighting forces of the United Earth Defense Force, the Zentraedi Armada, or the Malcontents.
Robotech RPG Tactics
is an epic 6mm scale battle game where players control whole armies from the Robotech universe. Take to the battlefield to crush your friends in a dynamic tactical game where the outcome is always hanging in the balance.

Robotech RPG Tactics let players enter the Robotech world in an exciting, new way! Engage in small skirmishes, play out large battles using detailed terrain, or extend your Robotech roleplaying games with these tactical rules and game pieces. Also includes profiles and rules for never-before-seen parts of the Robotech universe.
Contents:
112-page Full-color Rulebook
34 Highly-detailed, Plastic Game Pieces (Unpainted, Assembly Required)
- 15 Veritech Valkyries (5 Each in Fighter, Guardian, and Battloid Modes)
- 2 Tomahawks
- 2 Defenders
- 12 Regult Battlepods
- 1 Glaug Officer's Battlepod
- 1 Quel-Regult Reconnaissance Battlepod
- 1 Quel-Gulnau Recovery Pod

53 Laminated, Color Game Cards
24 Custom Dice
20 Plastic Command Point Tokens
1 Artillery Blast Template
2 Decal Sheets

Ages: 13+
Players: 2+
Please Note:  Miniatures are supplied unpainted. Preparation and assembly required.