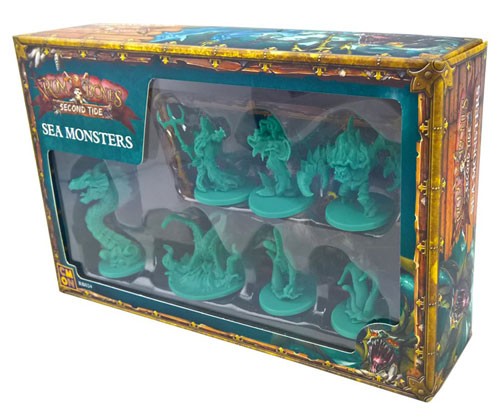 Unleash the beautiful-but-deadly
Siren
's call upon your foes! Choose her song and deliver devastating area-of-effect attacks to your foes, leaving them stunned and bewildered by her majestic voice, or use her song to beguile a foe's mind, taking control of them entirely!
Set loose the mighty
Shell Cracker
, an armored titan from the deep who will leave a reign of destruction across your opponent's ship - ass the while protecting your own Crew and Heroes!
Summon the legendary
Avatar of Poseidon
, master of the sea! This powerful ally both heals your allies and harms your foes, all the while manipulating the waters around the ships, creating devastating tidal waves to wash your enemies overboard!
In addition to these new creatures, this box also contains sculpted models for both the Sea Dragon and the Kraken.

Contents:
7 Plastic Miniatures
3 Sea Monster Dashboards
Ages: 14+
Players: 2-6
Game Length: 60 minutes
Please Note:  This is not a stand-alone game. A copy of Rum & Bones: Second Tide is required to play.