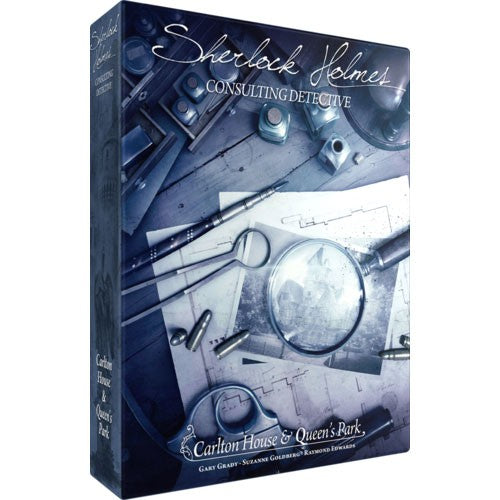 Carlton House & Queen's Park
 offers you an immersion in the crimes and intrigues in London during the Victorian era. Investigate with your team and, using the newspapers, directory, and London map, solve the cases and try to surpass the most famous detective.
Carlton House
The streets of London will no longer be the only scene of your investigations. Enter the famous mansion and try to solve four mysterious cases.
The Twisted Tail and the Devil's Ransom
Tortuous interludes outside Carlton House challenge your detective skills!
Queen's Park
Three days of investigation await you in the green setting of the famous park of London. These cases will give the most experienced players a hard time!
Contents:
1 Map of London
3 Additional Maps
1 Envelope with 12 Clues
10 Case Booklets
10 Newspapers
1 London Directory
1 Rulebook

Ages: 14+
Players: 1-8
Game Length: 90+ minutes.

This game can be played on its own or combined with other Sherlock Holmes Consulting Detective sets for enhanced play.