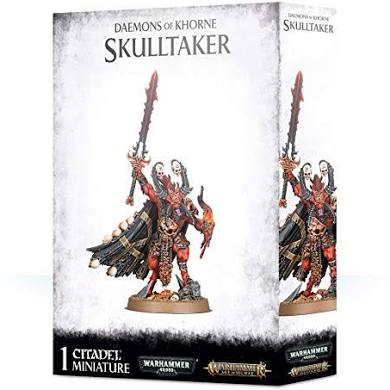 Skulltaker is a savage hero-slayer. Usable in both Warhammer 40,000 and Warhammer Age of Sigmar, he'll make short work of any of your opponent's champions in close combat, as well as driving your Bloodletters to fight even harder. 
This set allows you to add Skulltaker to your own Daemons of Khorne armies. Featuring a classic Chaos aesthetic coupled with the best modern miniatures design techniques, it's a treat for painters too, featuring all sorts of intricate details – and, of course, a lot of skulls! 
This kit is supplied in 14 plastic components and comes with a scenic 40mm round base featuring pre-sculpted detail.