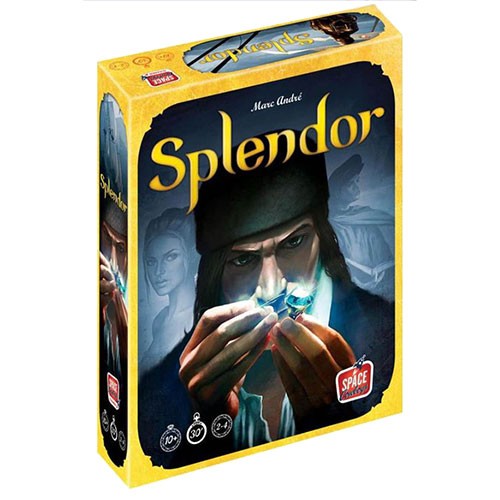 As a wealthy Renaissance merchant, acquire mines and transportation, hire artisans and woo the nobility. Create the most fantastic jewelry to become the best-known merchant of them all! Acquire precious stones to trade them for development cards. Use development cards to acquire more gem stones. Use your gems and gold to create the most fantastic jewelry, and appeal to the nobles to gain the prestige you need to win.
Features:
- Limited actions and resource management
- Challenging economic theme
- Beautiful art
Contents:
35 Precious Gem Tokens
5 Gold Tokens
90 Development Cards
10 Noble Cards
Rules
Ages: 10+
Players: 2-4
Game Length: 30 minutes
Quick to learn, challenging to master. Splendor offers hefty poker chip tokens that are satisfying to acquire and spend. Thoughtful mechanics and a challenging goal make Splendor a crowd favorite and easy to get to the table mainstay in any board game collection.