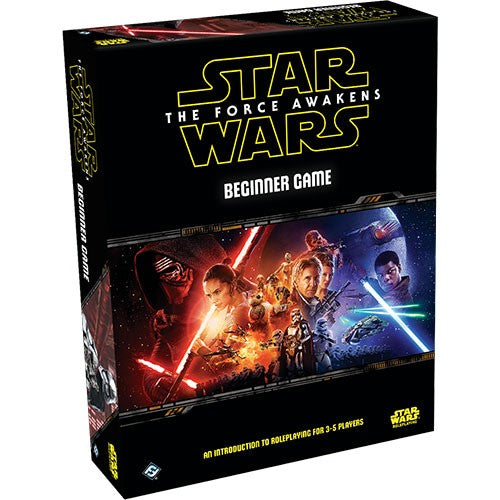 Gather your friends and get ready for adventure in the Star Wars galaxy!
Whether you are brand-new to roleplaying or just new to Star Wars Roleplaying, this Beginner Game is the perfect starting point for players of all skill levels!
Open the box and begin playing immediately! Star Wars: The Force Awakens RPG - Beginner Game features a complete, learn-as-you-go adventure. Players can jump right in and play as they learn the rules. Pre-generated character folios keep rules right at their fingertips. Custom dice and an exciting narrative gameplay system make every roll a story. Detailed rules provide for hours of entertainment as your create your own adventures and tell your own stories.
This is a complete stand-alone game for 3-5 players.

Contents:
1 Adventure Book
1 Rulebook
1 Introduction Sheet
4 Character Folios
1 Map
14 Custom Dice
8 Destiny Tokens
49 Character, Creature, and Vehicle Tokens