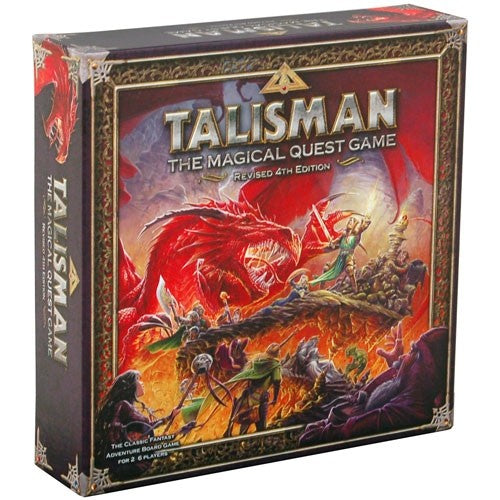 Enter a Mythic World of Dragons and Sorcery!

In Talisman, you'll embark on a perilous quest for the ultimate treasure, the legendary Crown of Command. You'll choose the warrior, priest, wizard, or one of eleven other heroes with power both magical and mighty.

But the path to the crown is treacherous. Legends say that only a fabled Talisman can safeguard you in the lands past the Portal of Power. Yet, finding such an artifact is no small feat: monsters, traps, and evil magic wait to defeat you at every turn. So summon your courage! You will need it to best your opponents, to secure the crown, and to seize your destiny!

Contents:
1 Game Board
1 Rulebook
14 Character Cards
104 Adventure Cards
24 Spell Cards
28 Purchase Cards
4 Talisman Cards
4 Toad Cards
4 Alignment Cards
18 Plastic Figures
6 Six-sided Dice
40 Strength Counters
40 Craft Counters
40 Life Counters
30 Gold Coins
36 Fate Tokens

Ages: 12+
Players: 2-6
Game Length: 90 minutes