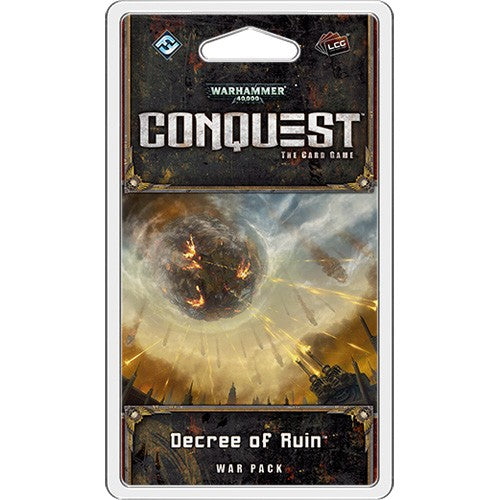 "I will restore the sanctity of this world, no matter the cost."
- Broderick Worr

Decree of Ruin is the first War Pack in the Planetfall cycle.

War spreads to the planet of Sacaellum with Decree of Ruin! A new phase of war has begun in the Traxis sector as each faction returns to the goals that drive it. As part of the Planetfall cycle, the new cards in this War Pack give new meaning to the type symbols on each planet. When you battle on a planet with symbols aligned with your goals, your units gain powerful benefits to help you achieve victory.

Of course, this expansion also offers new cards to swell every faction's armies, including the Tyranids faction introduced in The Great Devourer. In addition, you can inspire your troops in battle with a new Astra Militarum warlord or form unlikely alliances with a new Tau warlord. The war for the Traxis sector intensifies with Decree of Ruin!

Contains cards 1-24 of the Planetfall cycle.
Ages: 14+
Players: 2
Game Length: 30-60 minutes
Please Note:  This is not a stand-alone game. A copy of Warhammer 40,000 Conquest is required to play.