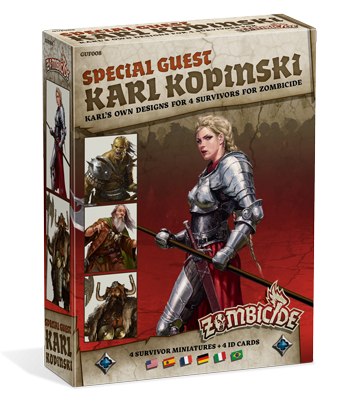 Karl Kopinski was born in Nottingham in 1971, drawing became an obsession from an early age.  After studying fine art at university, he worked for the main art department of Games Workshop for seven years.  He returned to freelance work around seven years ago.  He is currently still based in Nottingham and now works in a wide variety of fields and media; including book illustration, concept design for the game industry, military historical paintings, and portraiture, and of course the legendary Magic: the Gathering cards!
A box set of four Zombicide: Black Plague survivors that were designed by Karl Kopinski.

Contents:
4 Miniatures
- Ulfo
- Marcus the mighty
- Dame Ahelissa
- Garuk
4 ID Cards
1 Counter Base

Ages: 14+
Players: 1-6
Game Length: 60 minutes

This is not a stand-alone game. A copy of Zombicide: Black Plague is required to play.