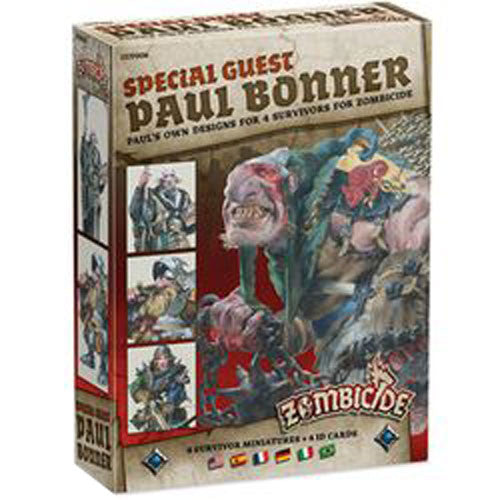 Paul Bonner, a Yorkshire born Englishman, has lived in Copenhagen since the early '90s.  After earning his degree in illustration at the Harrow College of Art, he illustrated many children's books on a freelance basis in London, then spent three years with the Games Workshop Design Studio.  After moving to Denmark, he continued his relationship with Games Workshop, and also contributed to such titles as Mutant Chronicles, Rackham's Comfrontation, Shadowrun, and Riotminds.
A box set of four Zombicide: Black Plague survivors that were designed by Paul Bonner.

Contents:
4 Miniatures
- Lord Bazak
- Genevieve
- Mizar
- Klom
4 ID Cards
1 Counter Base

Ages: 14+
Players: 1-6
Game Length: 60 minutes

This is not a stand-alone game. A copy of Zombicide: Black Plague is required to play.