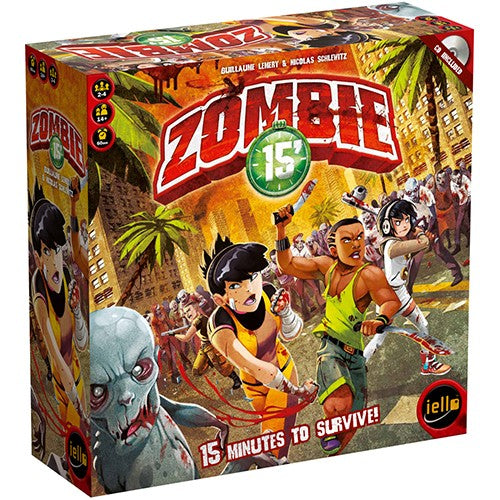 Everyone over 18 has turned into zombies hungering for fresh meat. The zombies fed upon the youngest first...but you survived!
You have only one problem: a horde of thousands of zombies is relentlessly chasing you. Run through town in search of weapons, safe haven, and some food, make a stand, encounter other survivors and discover the origin of the epidemic!
Zombie 15' is an innovative and fast-paced team game where you play together against zombies and the clock. A Hollywood-style soundtrack counts down the 15 minutes you have to reach your objective. Follow the instructions in each of the 15 scenarios that make up an epic campaign of progressively increasing difficulty, or create your own scenario. Help each other and discuss your tactics, but make it quick: every time you hear zombie growls, more undead pop up around you!
Easy-to-learn rules full of options make Zombie 15' a unique and frantic gaming experience for all zombie fans eager for teamwork and thrills.
Contents:
Survival Guide - Rules
Death on Your Heels - Campaign Booklet
32 Double-sided Terrain Tiles
1 CD
8 Hero Figures
99 Zombie Figures + 1 Alpha Zombie
8 Hero Sheets
1 Horde Box
25 Ammo/Durability Tokens
15 Life Point Tokens
56 Search Cards
48 Zombie Cards
18 Special Item Cards
33 Scenario Cards
40 Search Tokens
Various Tokens
Ages: 14+
Players: 2-4
Game Length: 15-60 minutes