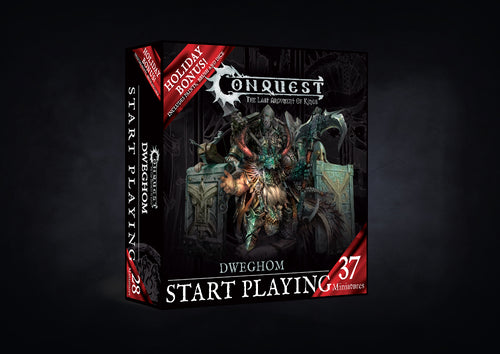 While the clamor of war spreads, the wisest among those living fear the rising of the Dweghom, the oldest disciples of War. The last time the entirety of their Hosts marched to battle, the eternal reign of Dragons came to an end in a conflict so violent, the land itself withdrew. Now, as the clamor of battle from above echoes in the tunnels of their Holds, they feel the pulse quicken in their veins. Their hearts are eager to beat in tune with the drums of War, their bodies eager to join the fray… and the doors of Holds open once more.
Everything you need to start your Conquest experience with the Dweghom in one box!
Box Contents
24 Hold Warriors / Hold Ballistae
12 Dragonslayers / Hold Thanes
1 Hold Raegh
37 Infantry Bases
10 Infantry Stands
7 Command Cards
12 Oakie Doakie Dice
6 Warcolours Paints
1 DaVinci Artist Brushes Paint Brush, Size 0
Product Information
Assembly: Required.
Material: Plastic regiments. Resin Character.