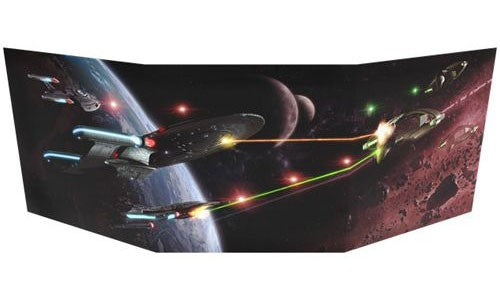 "Nothing reveals humanity so well as the games it plays."
-Q
The Gamemaster Toolkit gives the Gamemaster all the rules reference they need to run a mission into the Final Frontier, right in front of them. It also gives players reference sheets for each of the roles in Starfleet and on the bridge of a Federation starship.
This Toolkit includes:
• A giant Gamemaster screen, packed with rules for the 2d20 system and reference tables needed during play.
• Stunning starship art wrapped around the outer sides of the Gamemaster screen.
• 6 double-sided reference sheets including the actions of each role aboard a starship, Momentum spend reference tables, and conflict rules references.
• An A2 sized map of the Alpha and Beta Quadrants, with poster artwork on the reverse.

A copy of Star Trek Adventures RPG : Core Rulebook is required to use the contents of this toolkit.