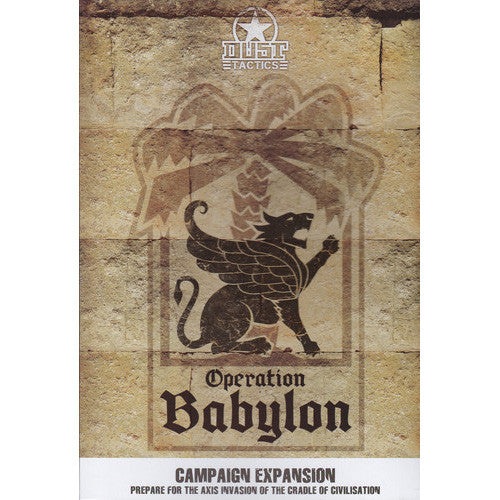 Operation Babylon thrusts Rommel, The Desert fox and his Neue Deutsches Afrikakorps (NDAK), the New German Africa Corps, into the cradle of civilisation in central Iraq. Their mission is to secure the region around the ancient city of Babylon and unearth a rumoured alien power source.

To do so, they must defeat the elite 4th Marine Division of the US Marine Corps stationed there, recovering from its ordeal in the battle for Zverograd. Meanwhile, the Spetsnaz special forces of the Sino-Soviet Unit (SSU) raid both sides, intent on setting the region ablaze.

This Campaign Set is suitable for both Dust Tactics and Dust Tactics Battlefield.

The Operation Babylon book includes:
- History of Operation Babylon, the Axis invasion of Iraq, and the Allied and SSU response.
- Six new Platoon Organisations.
- Rules for 6 new Heroes, 14 new Infantry units, and 10 new Vehicles.
- Rules for fielding the Sisters of Demolition Mercenary Unit.
- Options to field Captured Vehicles including Pounder, Ludwig, and KV-47 walkers.
- Six new Scenarios.

Contents:
Operation Babylon Book
4 Double-sided 9 x 6 Square Game Boards
12 Doubled-sided Terrain Tiles
21 Broken Walls and Ammunition Crate Tiles

A copy of the rulebook for Dust Tactics is required to use the contents of this book.